Christmas Collection Products
Christmas Balsam Fir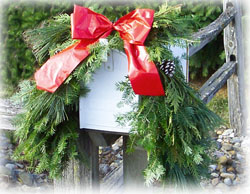 Serving the Midwest states, and beyond, Belle Plaine Nursery's Christmas greenery is well-known for quality. Wreaths of all sizes, garland, and other seasonal greenery are made from the finest quality evergreens. All products are hand made with all natural materials.

Wreath making has been a Belle Plaine tradition for over 140 years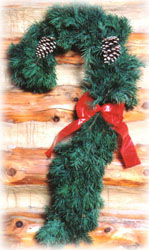 Christmas Balsam is recognized by its medium green color. We offer high quality Canadian Balsam, made from specially selected flat boughs. Balsam greenery is best placed outdoors.

We offer specialty wreaths and designs, combining Balsam with Cedar or White Pine.
Download our Balsam and Specialty Items Brochure

Wreaths and garland are a decorating standard during the holiday season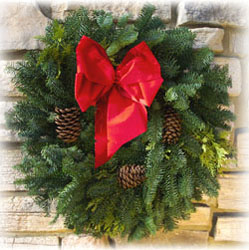 We choose the finest quality greenery for our wreaths, garland, and specialty designs, so they will remain fresh long after the holiday season.

Our enthusiasm for this time of year does not stop at our manufacturing floor. Whether looking for wholesale Christmas wreaths, or a wreath fundraising project, we want to assist you from the beginning to the end of your season. This not only includes informational pamphlets, catalogs, and flyers, but also top quality products and support.